Shirdi One Day Trip From Nashik in this tour package is visit Shirdi and Shanishinganapur near Nashik are two popular religious places and a day trip to these places is a great way to experience the spiritual side of Maharashtra. Meanwhile, private Cab is a convenient and comfortable way to travel from Nashik to Shirdi one day tour. Shirdi is the Place of the famous saint Saibaba and a large number of devotees visit Shirdi from all over the country Saibaba's temple is the main attraction in Shirdi and is visited by thousands of pilgrims every day. Other popular places to visit in Shirdi include Dwarkamai Chawdi and Shanishinganapur.
Shanishinganapur is a small village about 70 kilometers from Nashik dedicated to the Hindu god Shani, associated with the planet Saturn. The Shanishinganapur temple is a unique temple as it has no roof and is in the open. The most important thing about this city is that no house here has doors or locks and devotees can pray to this deity at any time of the day or night. One day trip to Shirdi and Shanishinganapur from Nashik by Private cab can provide a comfortable and hassle-free experience. And the trip can start early in the morning with the driver picking you up from your desired location in Nashik and you can reach Shirdi in around two hours.
Before proceeding to Shanishinganapur, one can spend some time visiting Saibaba Temple and other sightseeing places in Shirdi. After spending some time at the Shanishinganapur Temple return to Nashik in the evening after completing the day tour. A private cab allows for flexibility. And also provides you the opportunity to plan your itinerary according to your preference and schedule. Especially for those traveling with families or groups and it also provides a comfortable as well as safe means of transportation. Shirdi One Day Trip From Nashik Shirdi and Shani Shinganapur One Day Trip from Nashik are the pilgrimage sites close to Nashik Pass so we can complete it in Shirdi one day trip from Nashik.
Table of Contents
---
Overview of Nashik to Shirdi & Shani Shinganapur One day Trip by cab
One day trip to Shirdi and Shanishinganapur from Nashik takes me to Shirdi and Shanishinganapur, two of the most iconic pilgrimage sites in Maharashtra. Shirdi is the abode of revered Saint Saibaba and is visited by millions of devotees from all over the world Shanishinganapur is famous for the Shani Temple which is dedicated to Shani Dev, the Hindu god associated with the planet Saturn.
Nashik to Shirdi & Shani Shinganapur One day Trip offers a spiritual and cultural experience as you visit these two holy places and learn the stories and legends associated with them.You can hire a private cap to get you to both places and back to Nashik in one day so that you can maximize your time at both these religious pilgrimage sites.And you can travel comfortably
---
Itinerary of Nashik to Shirdi & Shani Shinganapur One day Tour package by cab
You can leave Nashik between 7 am and 9 am.
And in the evening you can reach Nashik between 7 and 8 PM.
---
Highlights of One day trip to Shirdi and Shanishinganapur from Nashik by Private cab.
Total Duration : 12 To 15 Hr
Information: Even if Nashik is called the city of gods, it will not be different. The city of Nashik and its environs are famous for temples. From Nahsik Shirdi Devasthan is 95 kms. Shani Shinganapur Devasthan is at a distance of 144 km From Nashik. Simply put, we can reach Shirdi in two hours from Nashik and after visiting Shirdi, we can reach Shani Shinganapur. And after completing the darshan at Shani Shinganapur, you can reach Nashik in three and a half to four hours. Explore Shirdi and shani Shinganapur in Shirdi One Day Trip From Nashik
Shirdi has an online pass facility for devotees to visit. However, you can get the Darshan Pass by visiting their official website. The same website varin is also available for you to stay. Click…….
It takes about 25 to 3 hours to visit Shirdi, if it is a Thursday then it may take longer You will get the benefit of prasada after completing the darshan here Meals are arranged by the Sansthan. Meals are served here for a nominal fee. After finishing your meal you can leave for Shani Shinganapur.
You can reach Shani Shinganapur in about one to one and half hours journey. The temple at Shani Shinganapur is open 24 hours a day and you can visit it anytime. So it doesn't take long to visit here. Even in Shani Shinganapur, you are provided a meal by the Sansthan for a nominal fee. Then you can travel back. There are plenty of hotels with sugarcane juice along the way. You can enjoy them.
---
Package for Nashik to Shirdi One Day tour package by Cab.
Hatchback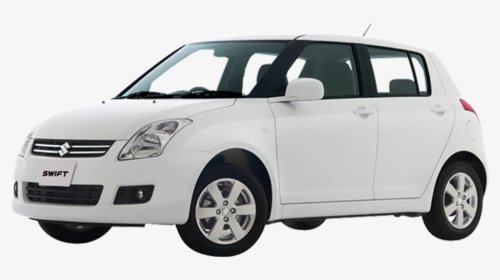 Economy
---
4 Person
Seating Capacity
(Indica, Ritz, WagonR,
Celerio etc.
Sedan Cab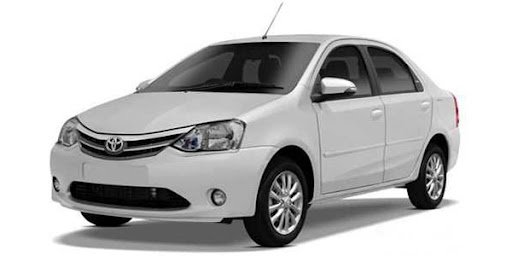 Most Recommended.
---
4 Person
Seating Capacity
Dzire, Etios, Indigo,
Xcent Etc.
Most Recommended
SUV Cab
Spacious and Luxurious
---
6 Person
Seating Capacity
Ertiga, Xylo, Lodgy,
Tuv300 etc.
Spacious and Luxurious
[booking_product_helper shortname="shirdi"]
---
What is Included and Excluded in Shirdi One Day Trip From Nashik by cab?
Including Package
Pick-Up And Drop From Hotel Or Home
Selected Cab Charges.
Driver Charges.
Toll Charges.
Parking Charges.
Excluding Package
Multiple Pickup And Drop.
Accommodation.
Food (Lunch, Breakfast or any Food.)
Entry Fee. (Some Places Charge Entry Fee.
---
For Booking Nashik to Shirdi One Day Trip by cab.
The following cab service providers are planning Nashik to Shirdi One Day Trip by cab. You can contact them, ask for information, and book a One Day Trip for you.
You can do business with us. Vender Registration
Call This Number to inquiry and Book your cab
ODT
Fill the call request form, We will contact you.
Chat one WhatsApp we will reply on WhatsApp.
---
Places and Information Covered In Shirdi One Day Trip From Nashik by cab.
Sai Baba Temple.
Location: Shirdi, Maharashtra, India
Timing and Entry Fees: The Sai Baba Temple is open from 4 am to 11 pm every day. There is no entry fee to visit the temple.
Things to Do / Must see: The main attraction of the Sai Baba Temple is the Samadhi Mandir, which houses the tomb of Sai Baba. Devotees can also visit other places of significance within the temple complex, such as the Dwarkamai, which was the mosque where Sai Baba stayed, and the Chavadi, which was the place where Sai Baba used to rest. There is also a Gurusthan, which is believed to be the spot where Sai Baba was first spotted as a child.
Significance: The Sai Baba Temple is one of the most popular religious destinations in India. It is dedicated to the 19th-century saint Sai Baba, who is revered by people of all religions for his teachings of love, peace, and compassion. Millions of devotees visit the temple every year to pay their respects and seek blessings.
Information: The Sai Baba Temple is located in the town of Shirdi in Maharashtra, about 240 km from Mumbai and 87 km from Nashik. The temple is easily accessible by road, and there are several buses and taxis available from Nashik to Shirdi. The temple complex also has facilities such as accommodation, dining, and parking for visitors. Visitors are advised to dress modestly and maintain the sanctity of the temple.
December to February is the best winter season to visit, as the climate is pleasant. Shirdi is one of the major religious sites in India.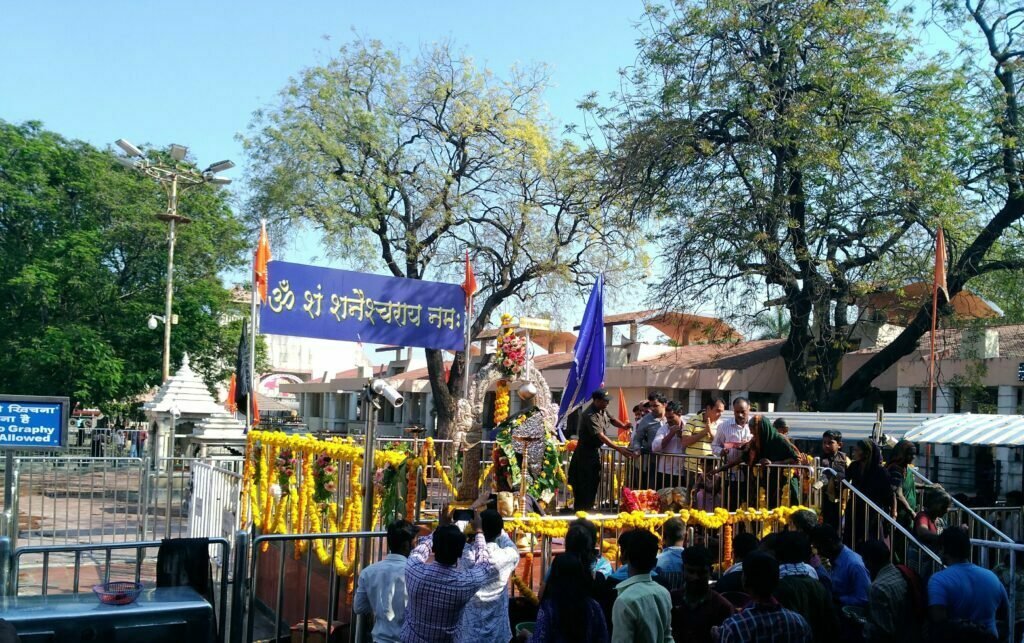 Shani Shinganapur Temple.
Location: Shani Shinganapur Temple is located in the village of Shani Shinganapur in the Ahmednagar district of Maharashtra, India.
Timing and Entry Fees: The temple is open for darshan 24 hours a day and there is no entry fee.
Things to Do / Must see: The main attraction of the Shani Shinganapur Temple is the idol of Lord Shani, which is a black stone placed on an open-air platform. Devotees come here to offer oil, flowers, and black cloth to the deity. There is also a small museum near the temple that showcases various artifacts related to Lord Shani.
Significance: The temple is dedicated to Lord Shani, who is considered to be the god of justice and is believed to have the power to bless or curse individuals based on their karma. The village of Shani Shinganapur is known for its unique tradition where the houses do not have doors or locks as it is believed that Lord Shani protects the village from thieves and robbers.
Information: The temple is located around 70 km from Nashik and can be easily reached by road. The nearest railway station is in Shrirampur, which is around 35 km away from the temple. The best time to visit the temple is during the winter months from November to February when the weather is pleasant. It is advisable to dress modestly and remove footwear before entering the temple premises.
---
What to do Shirdi One Day Trip?
Plan your time and trip before booking a trip. You must have a darshan pass before you can go here. Or have complete information related to that. Make a list of some of the documents required and fulfill them in advance.
What not to do Shirdi One Day Trip?
Women are not allowed here in less clothing. And men are denied access to jens.
What to buy from Shirdi One Day Trip?
Prasad of Laddu is available at Shirdi Sansthan. It is very tasty. Statues of gods, photo frames of gods.
---
Terms and conditions:
Passengers are requested that the package given is one day and there is a time constraint. The package is shown in the place mentioned above. You cannot modify it. If you want to make a change, let us know in advance, If possible, it will be considered and guided accordingly.
I want to tell you how much time you want to give to which place. Because you want to finish your trip in the allotted time. If this does not happen, you may be charged a separate charge for extra time, depending on the cab category, Talk to your cap service provider.
Pictures are our root, so if you want to change it, you have to tell it in advance.
If a place is closed for any reason, another place will be moved to that place if possible. If there is a parking charge for a longer period of time than the allotted time at a place, then you will have to pay the parking charge for the extra time.
You should have the facility up to the parking area near the place given above. If the place is away from the parking area, do not put pressure on the driver to take you to that place.
---
---
---
---